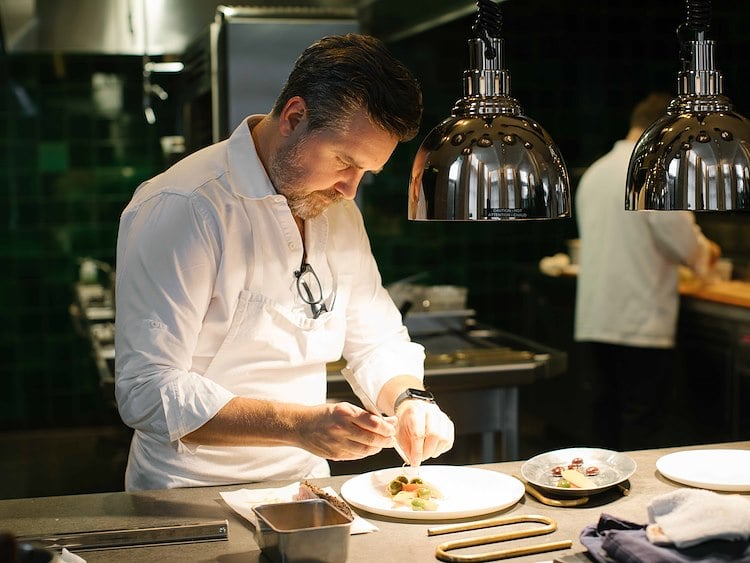 John Fraser
Lilac restaurant at The Tampa EDITION is helmed by Restaurateur & Chef John Fraser, who made his mark on the culinary landscape by redefining the role of vegetables in American cuisine, from imaginative fine dining destinations to sentimental neighborhood restaurants. Born & raised in Los Angeles, Fraser still draws inspiration from the nostalgia of comfort food and neighborhood bars he grew up around in California. In 2007, he made the move from chef to restaurateur with a vision to create the entire hospitality experience founding his own collaborative and creative hospitality group, JF Restaurants, based in New York City.
Fraser has become renowned for his groundbreaking creativity, as seen in projects like the critically acclaimed Dovetail (2007), collaborative openings - including Narcissa (2014) and the Standard Café (2014), and Greenwich village establishments - Michelin-star vegetarian restaurant NIX (2016) and America tavern The Loyal (2017) - both paused due to COVID-19.
Current concepts in New York include two restaurants - The Terrace & Outdoor Gardens and 701 West - and two bars - The Lobby Bar and Paradise Club - inside The Times Square EDITION (2019), the revitalized and reopened North Fork Table & Inn (2020) - an East End institution on the North Fork of Long Island, IRIS (2021) - inspired by Fraser's Greek heritage and admiration for Turkish cuisine, and three concepts - including modernized French brasserie La Marchande - at The Wall Street Hotel (2022). Beyond the tristate area, Fraser and his team are behind Ardor - a showcase for vegetable-forward California cuisine - and a rooftop bar at the West Hollywood EDITION (2020) and the signature fine-dining Mediterranean restaurant Lilac - in addition to three restaurants and bars - inside the Tampa EDITION (2022).
Fraser's culinary accolades include three stars from the New York Times and a Michelin star for eight consecutive years of operations at Dovetail, as well as a Michelin star and two-star rating from the New York Times at NIX. IRIS has been awarded "critics' choice" and the seventh best restaurant in NYC by the New York Times, as well as the thirteenth best restaurant in the United States by Esquire Magazine. Most recently, Ardor was cited as the number one best restaurant in West Hollywood by Timeout Magazine.